Welcome to the Foundation Stage. Within our unit we have FS1 and FS2 children who work together as a partnership in a stimulating, friendly and welcoming environment. Our FS1 staff (Miss Scargill, Miss Lattimore and Miss Spivey) work together to nurture the youngest of our children at this crucial stage of their school life. Alongside this team we have Mrs Everitt, Mrs Campbell and Mrs Woodward who teach the FS2 children.
"Children learn as they play. Most importantly, in play children learn how to learn."
FS1
Welcome to the Summer Term!
Another fantastic term was completed at Easter, with the new children in FS1 settling in well and becoming a very welcomed addition to our FS1 community. It has amazed us to see how much progress the children have made and how they are developing resilience and independence when approaching new tasks and activities.
The next term will see us support the children further in becoming responsible for their own learning (at a level to suit each individual child) as many become ready to join FS2 in September. For the children we are lucky enough to have remain with us in FS1 in September, we will support them in a child-centred way to ensure they are ready to continue their all important journey in learning and developing.
As always, we have focused on developing the children's Personal, Social and Emotional Development, Physical Development and Communication and Language skills, alongside the rest of the curriculum. If you follow our school Twitter feed (@Gilberdykerocks) you will see how well the children are doing and what activities they take part in on a weekly basis.
A main focus for the upcoming term will be Physical Development, with a particular focus on children's fine motor control (especially the ever so important skill of holding a pencil correctly in order to enable them to write letters). School-readiness will also be key for the children who join FS2 in September 2018. We have already started transition as a group of children eat their lunch in the main school hall - this is such a huge step for these children and we are, as always, so proud of their attitude and ability to adapt to this change.
We have an open door policy so ask that if you would ever like to speak to a member of staff please do so when dropping off or collecting your child. If we are unable to help immediately then we are happy to make a future appointment.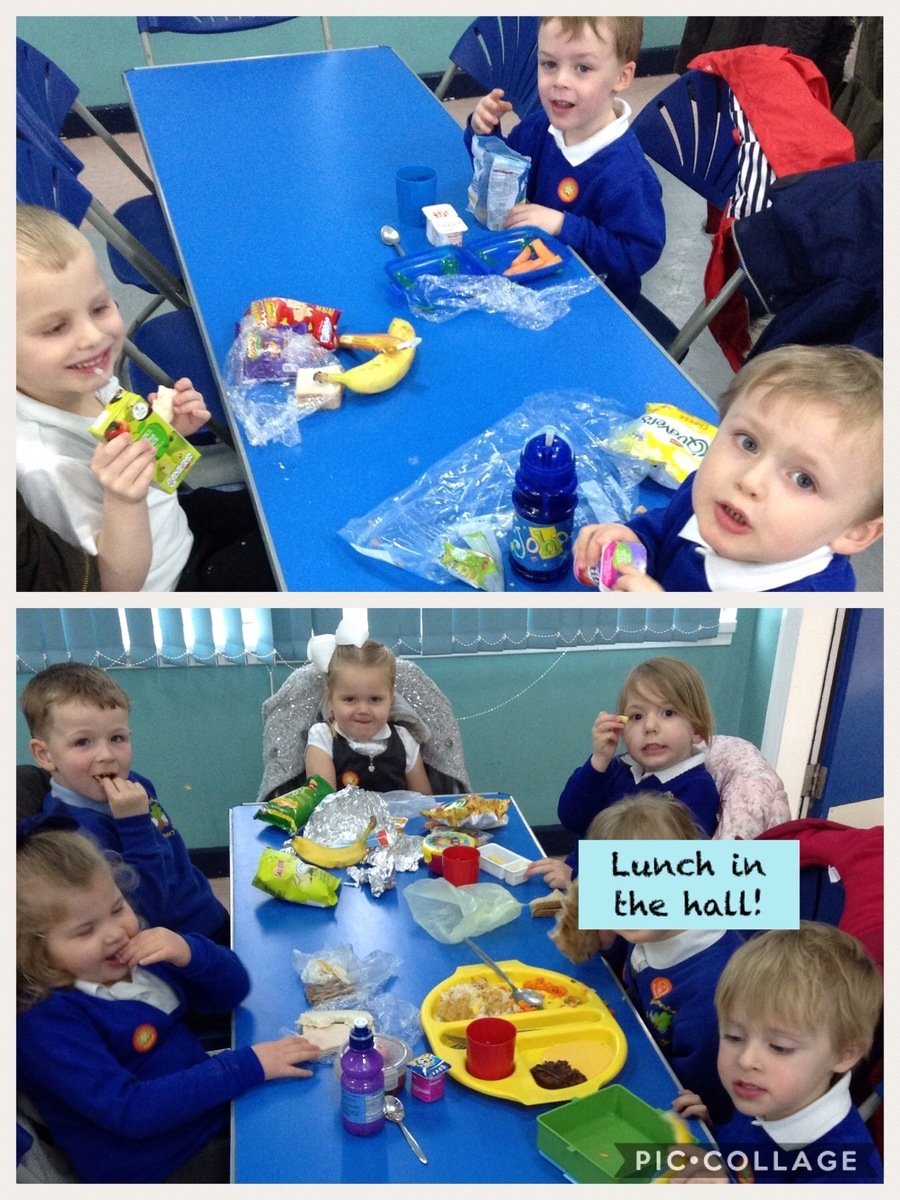 Routines
We do our utmost to ensure that the routine for your child remains stable as we know how important it is for children to feel settled in order to feel safe. With this in mind, as our new children enter the setting the routine will not change.
We aim to establish routines quickly to ensure that child feel secure and settled within their environment. Children take part in a Personal, Social and Emotional Development activity at the beginning of the day which is followed by child initiated learning through play hereafter. Adult support is given where necessary in children's play to enable their learning to develop.
When children enter school, they are supported to find their name and place it on our 'feelings chart' (happy or sad). We are working hard to help children to recognise the feelings of happy and sad and the reasons for this. Staff then ensure that they follow up with any child that may feel unhappy/sad. As the year progresses we will look at other feelings, whilst always holding in mind that some children find the differentiation between feelings hard.
Children are given one piece of fresh fruit or vegetable each day alongside milk or water. The children are already beginning to access this independently and can say which fruits they like or dislike with confidence. If your child brings a water bottle to school please could you ensure that it contains only water.
We have an open door to the outside where the children are greeted with an amazingly spacious outdoor area. All children can access the outside learning environment as and when they would like to do so. Staff encourage outdoor learning as a reflection of the children's indoor learning.
Staff are supporting children to develop their independence skills - putting on and fastening coats, changing between shoes and wellies, accessing the toilet and washing hands by themselves. Allowing children to do this at home supports the children's learning in school too.
FS1 Family
We are so lucky to have new families and siblings join the Gilberdyke Community - with this comes a larger FS1 family! Our children attend school in a variety of ways and are therefore able to form different friendships and friendship groups depending on the session they are here. This enables our children to use their PSED, speaking and listening, and communication skills in a variety of ways.
Champions in Learning
We have new Champions coming to light every single day - there have been so many champions in learning that we have had to start a new display board! Keep your eyes peeled for examples of Champion learning/skills in the photos below (or on Twitter).
Early Reading
We are continuing to support the children in their development of story language and the use of this new language in their play. The children are learning skills of phonological awareness through daily story sessions and Language In Colour activities. Every day the children demonstrate their amazing use of story language to us.
This half term we are focusing on Eric Carle and already children are beginning to orally retell the story of The Very Hungry Caterpillar. It is an absolute pleasure to see how much the children enjoy reading in our setting, and of course to hear the stories they know.
Language In Colour
FS1 children have also been taking part in Language in Colour sessions where they have been learning to identify 'who' and 'what doing' words. If your child starts to talk in 'chopped up sentences' (eg. man dancing, cow jumping) at home, don't worry, this is just a step we are taking in helping them to name and group types of words.
FS2
Welcome to the Summer Term! We are so excited about this term and our topic 'Minibeasts and Change.' We will start our topic, focusing on the author Eric Carle and the story 'The Very Hungry Caterpillar.' Watch out for some little visitors who will be joining us in our classroom!
We will also be working together to plan the effective transition between FS2 and Year one so that the learning journey of your child simply continues into Year one. In schools where the transition process has been successfully planned and executed, more children achieve on a much higher level both socially and academically. We will be making as many aspects of the 'unfamiliar, familiar' for the children so that they continue to have high levels of wellbeing and self esteem.
Our door is always open for you to speak to us before and after school so please if you have any queries come and ask our friendly team.
P.E
P.E will continue to take part weekly, on Wednesday mornings. We will now get changed for P.E so please could we ask that you send a P.E kit in for your child as soon as is possible. All children will require their P.E kit in school weekly please (black shorts and a white T-Shirt in a named bag. (No carrier bags please.) We encourage parents to leave the PE kit in school for the duration of the term and then take it home for washing during the holidays.
Stay and Read
This is a fantastic opportunity for parents to be involved with their children, within the Foundation unit. This will continue every Friday morning for the Summer term. You are very welcome to join us between 8.45 and 9.00am to read with your child.
Routines
When the children first come into school in a morning, they put their names on a 'feelings chart'. This allows us to quickly identify any children who have not come into school feeling happy and address this immediately. Your child's well-being is our priority and they need to feel happy, safe and secure before they are ready to learn. We also have a 'circle' at the beginning and end of every day where we have the opportunity to share our feelings, thoughts and ideas.
The children attend some assemblies and we are super proud of how well they sit and listen.
Phonics
The children are continuing to wow us with their phonic knowledge and how they are applying it in their reading and writing. This term, we will continue to have daily, focused phonic sessions which take place in smaller groups. The children will then have the opportunity to practise and apply their phonic knowledge in the Continuous Provision and in focused, adult led groups. We will continue to change reading books on a Wednesday and if your child has read his/her book and would like to change it during Stay and Read on a Friday morning, there will also be the opportunity for this. We recommend that you listen to your child read their book at least 3 times per week. Little and often work best so you do not have to read the whole book every time. Tricky words are going to be a focus for us this term so we would encourage the children to use their 'tricky word' mats at home to help support their learning.
Literacy
We will continue to be teaching Literacy through 'Talk for Writing'. This entails immersing the children in a text and getting them to learn the text through retelling, putting actions to the text and story mapping it. This will familiarise the children with story structures and language so that they can use their phonic knowledge to write their own story openings and parts of stories. These texts will then also lead into non-fiction writing based on the text, such as writing instructions. The texts that we will be focusing on this half term are: The Hungry Caterpillar, Spinderella and What the Ladybird heard.
Characteristics of Effective Learning
The following characteristics underpin everything that we do in the classroom:
Playing and exploring - engagement
Active learning - motivation
Creating and thinking critically - thinking
We will be linking these characteristics to stories and this half term we will be focusing on 'The Very Hungry Caterpillar' (encouraging the children to try new things), 'We're Going on a Bear Hunt' (encouraging the children to find out and explore) and 'Elmer' ( encouraging the children to pretend and play with what they know).
Mathematics
This term we will be focusing on doubling
numbers by using repeated addition. We will also look at sharing and halving numbers to 10 and then to 20. We will continue to sequence numbers to 20, using one more and one less than a number to 20 and problem solving using addition and subtractionWe will continue to build up our mathematical language for 2D and 3D shapes and using everyday language related to weight, length and time.