Welcome to the Foundation Stage. Within our unit we have FS1 and FS2 children who work together as a partnership in a stimulating, friendly and welcoming environment. Our FS1 staff (Miss Scargill, Miss Lattimore and Miss Spivey) work together to nurture the youngest of our children at this crucial time of the year. Alongside this team we have Mrs Everitt, Mrs Campbell and Mrs Woodward who teach the FS2 children.
"Children learn as they play. Most importantly, in play children learn how to learn."
FS1
Welcome to the start of the school year – this is new to many of you and for some is a return to Foundation Stage 1.
We wish all of our families (old and new) a warm welcome to the Gilberdyke Primary community, and hope that you and your child settle quickly and smoothly into the routines of being at school.
We recognise that the transition into school is daunting for some children (and their parents) and hope to ease you into the school at a pace to suit your child. If you ever need to speak to us regarding your child or their time in school please do not hesitate to ask – we are always here for you.
Routines
We aim to establish routines quickly to ensure that child feel secure and settled within their environment. Children take part in a Personal, Social and Emotional Development activity at the beginning of the day which is followed by child initiated learning through play hereafter. Adult support is given where necessary in children's play to enable their learning to develop.
When children enter school, they are supported to find their name and place it on our 'feelings chart' (happy or sad). We are working hard to help children to recognise the feelings of happy and sad and the reasons for this. Staff then ensure that they follow up with any child that may feel unhappy/sad. As the year progresses we will look at other feelings, whilst always holding in mind that some children find the differentiation between feelings hard.
Children are given one piece of fresh fruit or vegetable each day alongside milk or water. The children are already beginning to access this independently and can say which fruits they like or dislike with confidence. If your child brings a water bottle to school please could you ensure that it contains only water.
We have an open door to the outside where the children are greeted with an amazingly spacious outdoor area. All children can access the outside learning environment as and when they would like to do so. Staff encourage outdoor learning as a reflection of the children's indoor learning.
Staff are supporting children at this time of the year to develop their independence skills - putting on and fastening coats, changing between shoes and wellies, accessing the toilet and washing hands by themselves. Allowing children to do this at home supports the children's learning in school too.
FS1 Family
In FS1 we like to think that we are one big family. Our children come to school at different times throughout the week and we feel that it is important to recognise that even though we might not see everyone everyday, we still all belong to one community.
Throughout this term we will be looking at 'Elmer' and have used this as a starting point to create our family and community. The children have all taken part in creating their own jigsaw piece about themselves which has been made into one large display to show that we all belong together!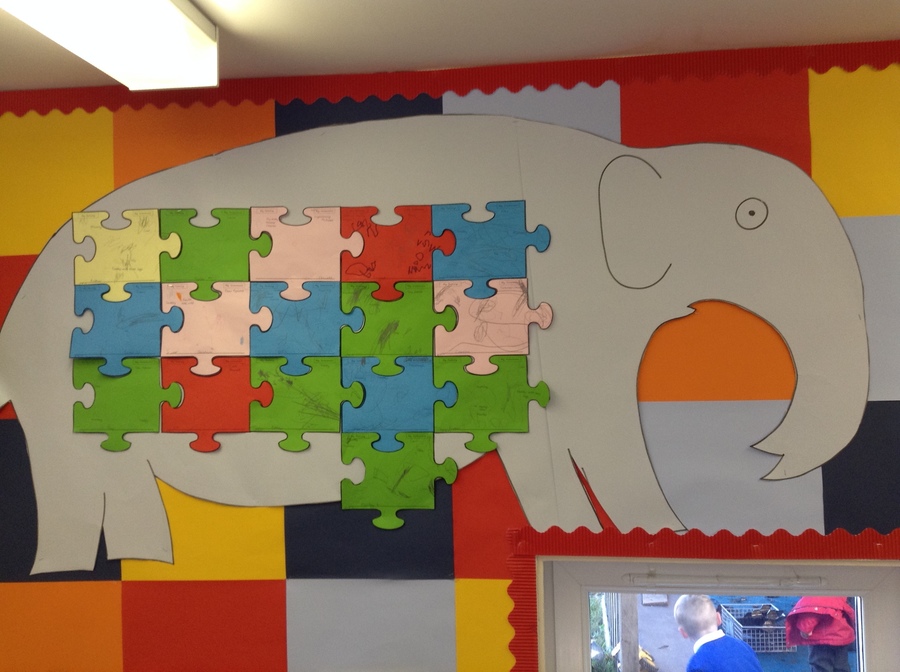 Champions in Learning
This term we are looking to find Champions in our class. Champions come in many different shapes and forms but already we are finding that we have a Maths champion, a physical development champion and a role play champion alongside many others. If you feel that your child is a champion then please let us know so we can put them up on our Champion display. We are so proud of everyone in our class and know that everyone has something to give to others!
FS2
We are so proud of the children for how they have settled into FS2 so quickly and are coping with full days and lunchtimes. It has been lovely to speak to so many parents and we encourage your input and questions. Our door is always open for you to speak to us before and after school so please if you have any queries come and ask our friendly team.
P.E
This will take place every Friday. Initially the children will just remove their socks and shoes and we will send a letter out giving you plenty of notice for when P.E kits are required.
Stay and Read
This is a fantastic opportunity for parents to be involved with their children, within the Foundation unit. Every Wednesday morning you are very welcome to join us between 8.45 and 9.00am to read with your child.
Routines
When the children first come into school in a morning, they put their names on a 'feelings chart'. This allows us to quickly identify any children who have not come into school feeling happy and address this immediately. Your child's well-being is our priority and they need to feel happy, safe and secure before they are ready to learn. We also have a 'circle' at the beginning and end of every day where we have the opportunity to share our feelings, thoughts and ideas.
The children have started going to some assemblies and we are super proud of how well they sit and listen. They are very excited about the start of the 'Celebration Assemblies' and to be able to show off their work to you all throughout the year.
Phonics
So far, the children have been focusing on speaking and listening skills in Phonics. We will be introducing letter sounds to the children using a range of fun and exciting ways and we will send a copy home of the sound mats that the children use at school to support your child at home. We will also be holding a 'Phonics Workshop' to help parents gain a better understanding of Phonics and how your child learns...more information will follow. Don't worry that your child does not have a reading book yet as this will follow later in the term when your child has covered the first sets of letter sounds.
Talk for Writing
The children will be focusing on 'Elmer' stories and poems and other stories by the author David McKee.
They will become very familiar with these stories and will be putting actions to the words and making story maps to help memorise them. This will help the children with story structure and language.
Characteristics of Effective Learning
The following characteristics underpin everything that we do in the classroom:
Playing and exploring - engagement
Active learning - motivation
Creating and thinking critically - thinking
We will be linking these characteristics to stories and this half term we will be focusing on 'The Very Hungry Caterpillar' (encouraging the children to try new things), 'We're Going on a Bear Hunt' (encouraging the children to find out and explore) and 'Elmer' ( encouraging the children to pretend and play with what they know).
Roald Dahl Day
On Friday 15th September the whole school celebrated Roald Dahl day. It was lovely to see the children dress up and get involved in this celebration of reading. We looked at 'The Enormous Crocodile', which the children loved.
Mathematics
This term we will be singing lots of number rhymes and action songs. We will be focusing on recognising and ordering numerals to 5 and then 10 and beyond for those who are ready. We will be learning how to count objects one by one and compare quantities by using language such as 'more' and 'less'. We will also be looking at 2D shapes and patterns.
MacMillan Coffee Morning
We are pleased to be holding our annual Macmillan Coffee Morning which will take place on Friday 29th September. This was extremely successful last year and we hope to see as many friendly faces as possible.